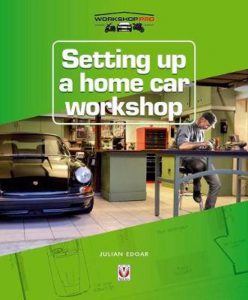 I stumbled upon this book by Julian Edgar through a book tip in a German classic car magazine. Since having a home workshop one day is a dream of mine, I ordered it.
As the name implies, it covers the important aspects of setting up your own smallish car workshop: tool selection (hand, powered, fixed), workbenches, lifting cars, storage, welding, designing a workshop, and safety. Much useful information is contained in it, including tips on building things like workbenches and ramps yourself.
To me, the book seems to be biased a bit towards the kind of work the author does, which includes a lot of metal fabrication. I think that some recommendations and tool details would be different if the focus was more on general car maintenance. Specialist but nonetheless quite common tools such as brake bleeders are absent. Lifts/hoists could have been covered in more detail, and TIG welding isn't included at all.
Despite these slight shortcomings, this book is a valuable resource for anyone interested in building or improving a home workshop – much of the information is useful not only for car workshops, but also for those focusing on woodworking, general metal fabrication, or just want a dedicated DIY/hobby space.