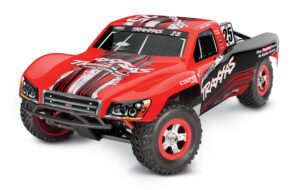 It's been 30 years since I last owned a radio-controlled car, but now that the kids are old enough, I decided to buy one once again. While doing some research I quickly decided to buy a decent hobby-quality car (with good spare part availability) instead of a toy-grade car. My choice fell upon the 1/16 Slash by Traxxas, as I liked the looks, the fact that it is 4WD, and the compact size that makes it easy to take along. The larger 1/10 scale Slash is among the most popular RC cars ever and available in several versions, such as 2WD and 4WD in a choice of brushed of brushless.
What's in the box?
Like most Traxxas car, the 1/16 Slash comes ready to run, i.e. fully assembled and including the transmitter. Also included are a 1200mAh 7.2V NiMH battery and a NiMH charger with 12V cigarette lighter plug – an annoying but understandable choice, as it removes the need for different plugs and power supplies across the world. Traxxas sell an AC adapter priced at approx. €30 – but you can get entry-level LiPo/NiMH chargers in this price range, which would be my choice. You need four AA batteries for the transmitter. Included is a basic tool kit consisting of three Allen keys and a hex wrench for taking off the wheels.
Motor & drivetrain
The 1/16 Slash comes with a 12-turn 550-sized brushed motor. This is actually the same motor that comes with the 1/10 scale Slash, and hence provides ample power for a model less than half the weight than the 1/10 Slash. The ESC (engine speed controller) supports both 7.2V NiMH and 2S LiPo batteries, with low voltage protection for the latter. It can be set to three modes – full power, full power without reverse (for racing), and half power. The latter is a good idea for getting to know the car, for kids, and may even be sufficient for off-road use. Stock these cars seem to do 35-40kph.
Both axles are powered, there are two open differentials. You can add some limited-slip capability with the various differential oils that Traxxas sell. The ESC and receiver are water proof, and after having the car submerged twice by accident, I can say that this is indeed the case.
Suspension
The 1/16 Slash has racecar-style pushrod suspension. This is done on real cars to reduce unsprung mass, but here it's probably because of the limited space available for shocks due to this being a small car. The shocks are oil-filled. The suspension is quite soft and compresses easily, reducing the ride height. You can adjust the spring preload, but this is somewhat limited if you want to retain full suspension travel. The steering is done via a micro servo with plastic gears.
Transmitter
The included TQ transmitter is the most simple model offered by Traxxas. Besides throttle and steering wheel, there's only a button for linking/binding, and a knob for steering trim. The advantage is that the transmitter is very light weight. The steering throw is quite small, so you need to make really small movements for fine steering. I feel that some exponential steering would help to make the steering less sensitive at high speeds, but this is not possible with this transmitter.
Batteries & charger
As written above, the car comes with a NiMH battery. I would not spend money on other NiMH batteries – they cost €20 each, whereas you can get a third-party 2S 2200mAh LiPo with almost twice the capacity for €30. Even the Traxxas equivalent, priced at €45, isn't much more expensive capacity-wise. Going LiPo does of course require a separate charger, but these start at approx. €30 (like the Traxxas AC adapter). I paid €45 for the Pulsetec Mega 65, a multi-chemistry model with LCD that is also sold under different names by SkyRC, Hitec, and possibly other brands. You will need an XT60 to Traxxas cable to charge the batteries.
I'm not a big fan of the battery door design. It's quite difficult to get open if there's sand or dirt stuck in the clips, which is pretty much always the case.
If you take it easy, you can get about 45 minutes of runtime out of a 2200 mAh LiPo, or about 25 minutes if you are full throttle most of the time.
How does it drive?
The motor has plenty of power for such a lightweight car, hence it is very easy to break traction and drift or do donuts. Due to the short wheelbase, straight-line stability is limited, and small bumps can easily throw the car off course. A complaint that I've read several times is that the car tips over easily when cornering, due to the narrow track. This is indeed the case when you go fast and the car hooks onto something – but with proper throttle control and not going full speed in corners, this is taken care of.
To me this car shines on relatively smooth loose underground, such as very fine gravel or packed sand. Sand is not an issue at all due to the car being lightweight. On loose underground it is easy to drift, which is more fun than driving on hard surfaces. Short grass is also not an issue. On very slippery surfaces, traction is limited due to the low tire load. Larger bumps and ledges can be an issue due to the low ground clearance, so going up a lowered sidewalk (like a driveway entrance) can be problematic.
While it can go slowly, it's not a crawler. The low ground clearance and the lack of locking differentials means that it is not really suited to rough terrain. The car is quite rugged, it has taken quite a beating in the two weeks I've had now and no damage so far, besides the paint being sandblasted off the body above the rear wheels.
Upgrades
There are plenty of upgrades available, both from Traxxas and other vendors. Traxxas sell a brushless motor/ESC kit, which I would skip, as I feel that the car does not have enough straight-line stability to make use of the additional speed. Most of the fun is to be had off-road anyways, where even the 50% training mode might be sufficient for some. There are also various aluminum parts available, though these are not cheap. You can also get cheaper upgrades such as steel balls to replace the plastic ones in several parts of the suspension.
A metal-gear servo is probably a sensible upgrade once you strip the gears in the original servo. I'll try the stiffer springs that Traxxas sell. These are really cheap and I hope for a bit more ground clearance and roll stability with these.
Verdict
If you want a compact yet fully featured hobby-grade RC car with somewhat scale looks, I can highly recommend this car. It is rugged, quick, has decent runtime on 2200mAh LiPos, and fits into a smallish backpack. Every single part is available as spare, so even if something breaks, repairing it doesn't cost an arm and a leg. The car sells for around €230, but if this is your first RC car, I'd budget around €350 to add two 2S LiPos and a decent charger with Traxxas charging lead.
An alternative would be the 1/16 Traxxas E-Revo, which has bigger wheels and hence a wider track, making it more suitable for bashing. It is also available in a brushless version. There's also the monster-truck style 1/16 Summit, which is a bit more expensive. If you want more ground clearance or just an overall bigger car, there are of course several variants of the 1/10 Slash that could interest you – 2WD and 4WD, with and without brushless motor. Prices range from €260 for the 2WD version to €650 for the fully upgraded Slash Ultimate. The cheapest 4WD version comes in at €390.