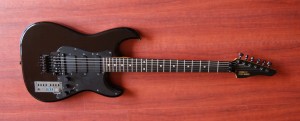 [lang_nl]Dit artikel is er alleen in het Duits en in het Engels.[/lang_nl]
[lang_de]Es war in den spätern 80ern oder frühen 90ern als mein Vater mit einer schwarzen Gitarre vom Gitarrenladen zurückkam. Wenn ich mich recht entsinne hat er damals 2000 Mark für diese Casio PG-380 bezahlt. Auf den ersten Blick ist es eine typische Superstrat mit HSS Pickup-Bestückung und Floyd Rose Tremolo. Auf der Vorderseite befindet sich ein Bedienpaneel mit Display und Knöpfen, und die Rückseite besteht aus mehreren Deckeln.
Die Casio PG-380 war das Spitzenmodell von Casios MIDI-Gitarren. Ein zusätzlicher Pickup zwischen Steghumbucker und Steg füttert einen eingebauten Synthesizer. Die Gitarre hat drei Ausgänge – einen normales Ausgang für die magnetischen Pickups, einen kombinierten Ausgang für Synthesizer und Magnetpickups, und einen MIDI-Ausgang. Die drei Regler sind Lautstärke der Magnetpickups, Laustärke des Synthesizers und Ton. Der Fünfwegschalter bietet die üblichen Stratocaster-Kombinationen, das Push-Pull-Ton-Poti splittet den Humbucker.
Die Gitarre hat einen Korpus aus Erle, Ahornhals und ein Griffbrett aus Ebenholz. Der Steg ist ein Gotoh Floyd Rose Tremolo, mit Klemmsattel. Die PG-380 wurde offenbar in der gleichen Fabrik wie die Ibanez-Gitarren gebaut und ist von hoher Qualität. Das wirklich interessante an ihr ist natürlich der eingebaute Synthesizer.
Dieser hat 64 vorprogrammierte Sounds, weitere können mit Speicherkarten hinzugefügt werden. Die eingebauten Sounds reichen von Blechbläsern über Orgeln bis hin zu Kuhglocken und Sirenen. Der MIDI-Ausgang kann auch andere Synthesizer steuern, praktisch, wenn man kein Keyboard spielt. Der Synthesizer kann den Ton auch eine Oktave höher oder niedriger transponieren, außerdem gibt es ein eingebautes Stimmgerät.
Ich habe die Gitarre von meinem Vater bekommen, da sie ein Problem hat, das sie offenbar mit den meisten PG-380 teilt. Manche der Saiten werden vom Synth-Pickup nicht richtig erfasst, wodurch sie keinen Ton oder einen Ton der teilweise nicht stoppt produzieren. Ursache hierfür sind offenbar Alterungserscheinungen bei den Kondensatoren, die ausgetauscht werden müssen. Zumindest eine Person (siehe erster Link) war in der Lage, die Kondensatoren neu zu formen, durch die Gitarre mehrere Monate eingestöpselt zu lassen, dies wird jedoch nicht wirklich empfohlen, da die Kondensatoren auch zerstört werden können, mit eventuellen Folgen für die Platinen.
Ich habe vorerst nicht vor, die Kondensatoren auszutauschen. I habe die Gitarre gesäubert und die Saiten gewechselt und spiele sie ab und zu, aber das flache Griffbrett (wahrscheinlich 16″ oder flacher, meine Strat hat 9,5″) und die fehlenden komfortablen Konturen (kein Platz dafür durch die Elektronik) sorgen dafür, dass ich doch lieber auf meiner Strat spiele.
Links
[lang_en]It was in the late 80s or early 90s when my father returned from a trip to the guitar store with a black electric guitar. If memory serves correctly, he spent 2000 Mark (about 1000 Euro) on a Casio PG-380. At first look, the PG-380 is a typical Superstrat with HSS pickup placement and a Floyd Rose locking tremolo. The front also has a panel with a display and a couple of buttons, and the rear is a patchwork of panels.
The Casio PG-380 was Casio's top-of-the-line MIDI guitar. An additional pickup between bridge humbucker and bridge fed a synthesizer built into the guitar. The guitar features three outputs – a standard output for the signal of the magnetic pickups, a standard output for both the signal of the synthesizer and the magnetic pickups, and a MIDI output. The three pots are magnetic pickup volume, synthesizer volume, and tone. The five-way switch provides the usual Strat pickup switching possibilities, the push-pull tone pot splits the humbucker.
The guitar features an alder body, maple neck and ebony fretboard, the bridge is a Gotoh Floyd Rose licensed tremolo with locking nut. The PG-380 was apparently built in the same factory as the Ibanez guitars and is of high quality. But the really interesting thing about it is of course the built-in synthesizer.
It comes with 64 pre-programmed sounds, more sounds can be added with memory cards. The on-board sounds range from brass over various organs to cowbells and sirens. The MIDI output makes it possible to control synthesizers, handy if you don't play keyboard. The on-board synthesizer can also shift the pitch up or down one octave, and has a built-in tuner.
I got the guitar from my father because it suffers from a problem that most PG-380s seem to exhibit. Some of the strings are not tracked correctly (in my case the three bass string), which results in no synth tone from them or a tone that doesn't stop. This is apparently caused by aging capacitors, and can be solved by replacing these. At least one person (see first link) has been able to reform the capacitors by keeping the guitar plugged in for a long time, but this is not recommended as it may destroy the capacitors and possibly the circuit boards.
I so far haven't considered replacing the capacitors. I have cleaned the guitar and changed the strings and play it occasionally, but the unfamiliar flat fretboard (probably 16″ or larger radius, my Strat has 9.5″) and lack of comfy body contours (no room for that due to the electronics) usually have me play my Strat.
Links