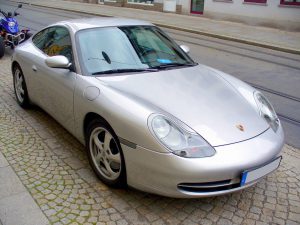 History
The introduction of the 996-model Porsche 911 in 1997 was not universally seen as a good thing. Not only did 911 lovers have to live without an air-cooled engine, but also have to accept the "fried egg" headlights that Porsche carried over from the Boxster as a cost-cutting measure. Moving to a liquid-cooled engine was of course a necessity for more performance and better heating. The headlights were modified with the facelift, and went back to round headlights with the successor 997 and have stayed round ever since.
The initial engine offering was a 3.4l with 300hp. A six-speed manual transmission was standard. Four-wheel-drive was available as option (Carrera 4), and standard on the 420hp turbo that was introduced in 1999. 2002 saw a facelift with new headlights (as featured on the turbo), displacement increased to 3.6l and power to 320hp. The Carrera 4S received a new wider body.
The 996 was also sold as Targa and Convertible. The most desirable 996 models are the GT3 and GT2. The GT3 is the first of its kind, aimed at the track enthusiast. The GT2 is based on the turbo, but rear-wheel drive only.
Performance
300hp and 350nm of torque may not sound much in this age of turbo-charged engines, but one has to remember that this car is 20 years old and has a dry weight of less than 1,400kg for the base-model Carrera. From this results an 0-100kph time of 5.2s and a top speed of 280kph for the 3.4l model, which is still respectable by today's standards. The other models are faster, of course, though not spectacularly so- even the GT2 can only shave off an additional second for the sprint to 100kph and is about 10% faster, cracking the 300kph barrier.
Pros
The cheapest 911 out there, thanks to the unloved headlights
Porsche build quality
Porsche brakes
Lighter and smaller than the successors
Did I say that it is THE CHEAPEST 911!?
Cons
Well-known IMS (intermediate main shaft) bearing issues that can lead to catastrophic engine failure if not dealt with
Interior shows its age
Porsche prices for parts and maintenance – beware of cars that have not had regular services
My pick
No frills base-model Carrera, with IMS bearing fix and maintenance record.