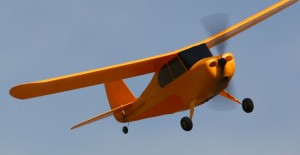 [lang_nl]Gedurende mijn zoektocht naar een modelvliegtuig om mee te beginnen kwam ik steeds de Hobbyzone Champ tegen. De Champ is een Ultra-Micro vliegtuig en weegt dus nog geen 40 gram, bij een spanwijdte van ong. 50cm.
Hij vliegt zeer stabiel, goed getrimd vliegt 'ie stabiel rechtuit, als je de oriëntatie kwijt bent kun je gewoon alles los laten en hij draait vanzelf weer goed. Doordat hij zo licht is, is de Champ ook bijna onverwoestbaar, mits boven gras gevlogen. Het grootste gevaar zijn bomen, want hij vliegt best snel en klimt op vol vermogen rap. Nadeel van het lage gewicht is de gevoeligheid voor wind, voor de eerste vluchten is windstilte absoluut aan te bevelen. Binnen vliegen is natuurlijk ook een optie, maar daarvoor is toch minimaal een gymzaal vereist, voor de woonkamer is de Champ veel te snel.
Met wat simulatorervaring is de Champ dus absoluut het perfecte toestel om te beginnen met modelvliegen! Ik kan de Turnigy Nanotech accu's van HobbyKing aanbevelen. Vier stuks kosten incl. verzendkosten ong. 8 euro.[/lang_nl]
[lang_en]During my search for a remote controlled model airplane, I always bumped into the Hobbyzone Champ. It's an Ultra-Micro plane, weighing less than 40 grams with a wingspan of approx. 50cm (20″).
It flies very stable, properly trimmed it will simply fly straight, and when you lose orientation, you can simply let go of everything and it will recover. Due to the light weight, the Champ is nearly indestructible if flown above grass. Trees are the biggest danger, since it flies quite quickly and easily gains altitude at full power. A disadvantage of the low weight is the wind sensitivity, no wind is a must for the first flights. Indoor flying is an option, too, but requires considerable space, the Champ is much too fast for living room flying.
With some simulator experience, the Champ really is the perfect plane to start RC flying! I recommend the Turnigy Nanotech batteries from HobbyKing.[/lang_en]
[lang_de]Tut mir leid, diesen Artikel gibt es nur auf Niederländisch und Englisch[/lang_de]