VW Golf II
I bought my first car at the end of my military service, in April 1999. It was a dark blue two-door 1990 Golf Madison (VW had many special models at the time to push the aging Golf II) with the 70 HP 1.6L electronic carburetor engine that already had run 188,000km. This was before digital cameras where everywhere, so I don't even have a picture of it. I put in a Sony radio with CD changer, added alloy wheels, a dual-exhaust muffler and darkened front turn signals (the rear ones where dark from the factory). Sold to my brother two years later, by this time it had run 220,000km.
I got it back for free two years later in poor condition. I invested € 500 and then sold it for € 500. By then it was 13 years old and had run 240,00km, but the engine was still doing fine and the body was practically rust-free. The 827 engine is in my opinion one of VW's classic engines, along with the 1.9 TDI, VR6, and the 1.8 Turbo. I also still like the lines of the Golf II, and an original GTI 16V is high on my wishlist.
BMW 316i compact (E36)
Bought in 2001, six years old with only 40,000km. Montreal blue metallic with blue interior – my dream car back then. I could afford it only due to a generous loan from my uncle. This was a big step up from the Golf and I really loved this car. I had it lowered by 40mm (a bit much for a car with this wheelbase) with Eibach springs and Koni shocks installed, which made it an excellent car for getting to know the Nürburgring Nordschleife. The handling was really neutral in fast corners, and it had enough power for having fun while not having enough to kill you in case you made a mistake. Later on I also got original BMW wheels (style 27) for it.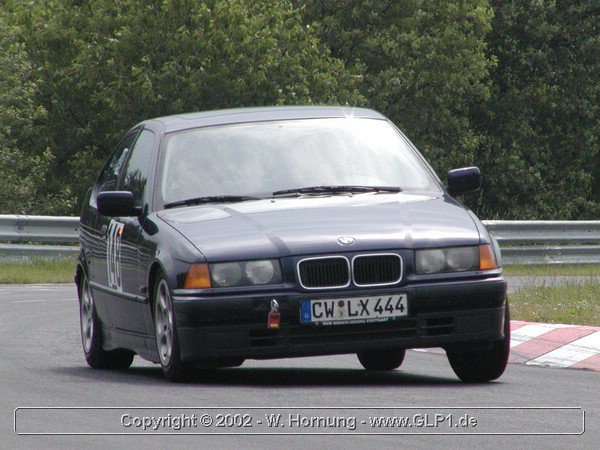 The BMW emigrated to the Netherlands with me, but stayed German since I never bothered to get it registered here (which I could have done without paying import fees, I simply was too lazy). It continued to be my daily driver but started to show the signs of aging. Besides some dents and scratches, there were problems with the driver-side window mechanism, first gear would pop out all the time, and the door panels let loose. It also did not have airconditioning. I sold it in 2008, 13 years old with 135,000km, the engine running better than the day I got it. I had tears in my eyes when it was loaded on the buyer's trailer. The compact is my favorite E36 body style (the coupé is a bit too long and low to me), so I might have to revisit this model at some time.
Seat Arosa
After I moved in with my then-girlfriend now-wife, we became a two-car family, with her contribution being a yellow Seat Arosa (facelift model) that she had bought new in 2001. It had the 1.4L 60HP engine under the hood, which was a good engine that had much more torque and power than the 1.0L 50HP I had suffered through in my parents' Polo 6N2. This became my daily driver in 2009 when I got a job that required me to drive quite a bit and we wanted to spare the main car. It eventually developed engine trouble, which turned out to be two burnt-out valves which meant it was only running on three cylinders. It was 11 years old but had barely run 100,000km at the time. It was traded in for the generous sum of € 1,000. Someone apparently fixed it and is still driving it, since the Dutch Motoring Authority still shows it as being registered.
Skoda Octavia I
Bought in December 2007, not yet four years old (facelift model) and with 40,000km on the odometer. 1.6L model with 100HP. It had been sitting at the dealer for more than a year and looked like new. It then decided not to start when we wanted to pick it up (faulty fuel pump solenoid), which was the start of a relatively trouble-free car life. We bought it for the airconditioning and the space it offered (600L trunk), and it did not disappoint. It had two water pumps and two lambda probes replaced, but was mostly trouble-free otherwise. In 2015, another timing belt replacement was quickly approaching, so once the lease car had arrived I sold it at 155,000km run and 11 years old. It was gone within 24 hours, destined to become a taxi in Egypt (apparently a common fate for Octavia hatchbacks).
Peugeot 107
When the Arosa was diagnosed with three-cylinder-itis, we needed a new small car. The logical choice was something that was cheap to run, like the very popular (in the Netherlands) Citroen C1/Peugeot 107/Toyota Aygo. I went to our local Peugeot dealer, asked for a four-door 107 with air conditioning, and walked out with a silver car, two years old with 22,000km. I like this car from an engineering point of view, as its makers clearly tried to create a car that is cheap to build while not being a cheaply made car. Of course it is quite noisy with the three-cylinder engine revving to produce its 68 HP and the steering is a bit dead around center, but it does 130 kph quite fine and there are no squeaks or rattles. This was also the most trouble-free car we ever had, with two new tires (the Michelin Energy Saver tires mounted by the factory are infamous for developing cracks) being the only unplanned maintenance costs. But then, it was also the car we owned the shortest and drove the fewest. Sold in 2017, six years old with 45,000km.
Peugeot 308 SW
I finally decided to get a company lease car in early 2015. In the Netherlands, when you are provided with a car by your employer and drive it privately as well, you have to pay taxes over a certain percentage of a car's new value. In 2015, this percentage was still based on the fuel consumption of the car (it is a flat 22% as of 2017), and Peugeot just managed to squeeze the Peugeot 308 SW Diesel below the 14% threshold in 2015, making it the biggest car in this 14% range. Where I had previously considered a Skoda Octavia III, the Peugeot 308 was now the logical choice, and I ordered a dark blue one at our lease company (as did everybody else in the Netherlands who got a new company car in 2015 – it was the best-sold car in 2015 by a fair margin, with a staggering 12,000 being sold in December 2015 to profit from the 14% rule). They are everywhere.
We actually had to wait for three months, but it arrived just in time for out 2015 summer vacation. While still a 1.6L four-cylinder like the Golf, BMW, and Skoda, this was the first Diesel I owned. I had always jokingly referred to Diesels only being suitable for trucks, trains, and ships, but this engine turns out 120 HP and 300Nm of torque. Of course, everything happens between 1,800rpm and 3,000rpm, but there is never a lack of power. With its six-speed transmission and long final gearing, it does 1,900rpm at 130kph. Yes, it's quiet. After five minutes behind the small steering wheel, you start to wonder why other manufacturers still put big steering wheels into their cars. It does of course have issues (the Italian navigation system does not do a good job at taking traffic jams into account, and other assorted strange behavior), but I really like the uncluttered dash that results from having everything controlled via a big touch screen. An excellent car, quick, comfortable, and spacious (at least the trunk, grown-ups will find the leg space in the back a bit cramped). Returned to the lease company in July 2020.
BMW 318ti compact (E46)
I mentioned Dutch tax laws above. There is a special rule for cars older than 15 years. If you are provided a company car for private use that is older than 15 years, you do not pay a tax percentage over the new value, but over the current value. So instead of shelling out income tax over 22% of a new 3-series' > € 40,000 price tag, you pay tax over 35% of the current value, which is much less for a 15 year-old 3-series. Being a car lover, I saw this as quite the opportunity to have my own company pay the costs (which means less profit and thus less taxes, while being able to deduct sales tax/VAT) while keeping private costs down. I immediately knew I once again wanted to own and drive a BMW. I first looked at the E30 (I quite like the early models with chrome bumpers and small tail lights), but they have become quite expensive and are, in my opinion, not really suitable as daily drivers since they lack airconditioning and other modern amenities.
I then decided to look for an E46 in good condition. It could be a coupé or compact since we've got the 308 SW as practical family car. I wanted a car in good original condition, with low mileage, and it had to be blue. The engine had to be at least the 2-liter four-cylinder (143 HP). I briefly considered importing one from Germany, but prices aren't that different so the extra effort did not seem worth it, even though the choice in the Netherlands is quite limited – especially when it comes to the more powerful six-cylinder versions, as those were really expensive here. I was unsure whether to go automatic (quite common) or manual transmission since I like automatics for daily use, but I had I light preference for manual in case the car would ever see a track or a twisting road.
With these parameters determined, I started searching the Internet. The choice really was quite limited. There aren't that many coupés around that haven't racked up > 250,000km already, and often they are modified quite a bit. 330s are quite expensive if in good condition. But the compact, which probably was regularly bought as second car, is both cheaper (since many people don't like the looks of it) and more commonly found with lower mileage. I would have liked a 325ti, but the choice there is very limited. In the end I decided to stick to a four-cylinder (also cheaper when it comes to taxes, insurance, and probably fuel) when I saw a nice 318ti advertised. It was blue, had run 144,000km, and was traded in by the first owner. It was also loaded with options, including the (at the time very expensive) Navigation Business and telephone option – not that those are very useful 15 years later.
A visit to the dealer revealed a car with some minor cosmetic issues (scratches on all four corners had already been dealt with), but in otherwise very good condition. No rust whatsoever, and a clean interior. The trunk even contained the original BMW damage report set with one-use camera. All instruction booklets where there and the car was regularly serviced at a BMW dealer. Both airconditioning and cruise control worked during the test ride and the car handled well, so I bought it.
More about this car can be found on this page. Sold in October of 2019.
BMW 530i (E39)
New requirements led to the sale of the compact and the acquisition of an E39 5-series sedan, as chronicled here. Personal circumstances led to the requirement of the second car being a four-door car that can be used to transport a large dog. As I wanted to make use of the same tax benefits as with the compact, it needed to be 15 years old as well. I wanted something that would keep its value, hence an E46 330i or E39 530i. The latter turned out to be cheaper, so I went down that route.
The car is a Toledo blue Edition Exclusive model, built in March of 2002. Towards the end of the E39's production run, BMW offered three editions (Exclusive, Lifestyle, Sport) with lots of options to keep the old model selling. This means lots of nice stuff like leather, heated seats, and park distance control front and rear. This car also has exactly what I want: black interior, manual seats (the electric ones are very heavy and will break down), no sunroof (unnecessary weight up high).
Being a 530i, there is of course plenty of power. The ZF 5HP is an old-fashioned five-speed automatic transmission with torque converter, so it's more of a cruiser than a sports car, but putting your right foot down and waiting for a short time (the transmission usually tries to keep the engine below 2,000 rpm, so it will have to shift down one or two gears) leads to proper acceleration and a flashing traction control light. The downside: fuel consumption. It's usually around 10 to 11l for 100km, but has been as bad as 15l when only driving short distances. Cruising at 100 kph this goes down to 7 to 8l. Oil use, a known issue with the M54B30, does not seem to be excessive so far.
The standard suspension is quite soft and comfortable and there's quite a bit of body movement, so I can see the benefit of the optional sports suspension. The power steering is of course still hydraulic and quite heavy, offering plenty of feedback. Cargo space is somewhat limited as mine doesn't have fold-down seats and even lacks the optional ski hatch. At least the trunk hinges don't protrude into the trunk. The interior oozes build quality, which is clearly a step up from the E46, even though the basic dash and control layout is very similar. My car is equipped with an Android navigation system that includes a reversing camera, a very useful feature.
After owning this car for almost a year, I can understand why the E39 is sometimes called BMW's best car ever. It's a combination of classic BMW styling, six-cylinder engines, build quality, comfort, and performance that might be unmatched by anything else. I really enjoy this car for long-distance driving and would not be happy to see it go, even if changing circumstances might require it in the future. The only car that I might consider an upgrade would be a manual transmission Edition Sport 530i.