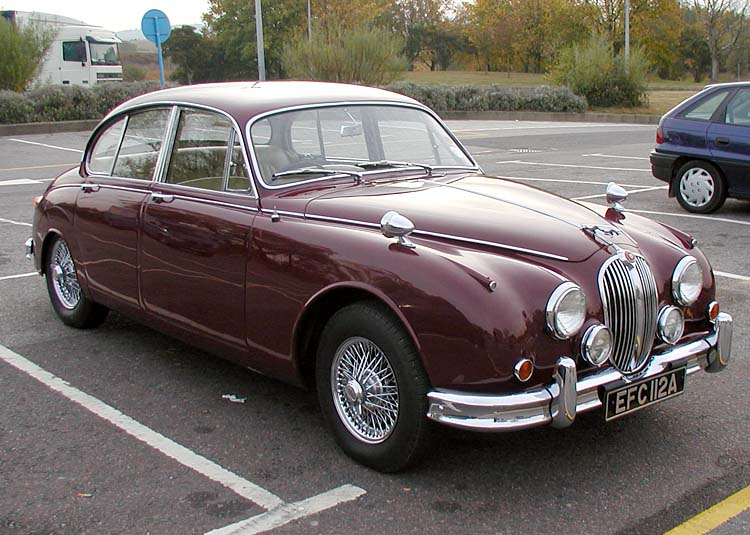 History
The Jaguar Mk 2 was introduced in late 1959 as successor to the Mk 1. It was the medium-sized saloon/sedan in Jaguar's lineup, positioned below the larger Mk IX and Mk X. It was powered by various versions of the XK engine, being available with the 2.4l, 3.4l, and 3.8l versions of this engine. The 3.8l cars were successful race cars in the early '60s.
It was also available by Daimler (which produced luxury derivatives of Jaguar cars) as 250, with a 2.5l V8 engine that was lighter and more powerful than the 2.4l six-cylinder.
Starting in 1963, a derivative model, the S-type, was produced alongside the Mk 2. The S-type featured independent rear suspension (resulting in better handling) and an elongated rear that is universally accepted as being inferior to the original styling.
Towards the end of the run, the model designation was changed to 240 for the 2.4l and 340 for the 3.4l model. The Mk 2 was succeeded by the XJ6 in 1968.
Performance
Jaguar gave gross horse power figures, which are probably about 10% higher than what would be considered correct today. The 2.4l had 120 hp, the 3.4l 210 hp, the 3.8l 220 hp. The 3.8l is very similar to the engine used in the E-type, but with less power due to a different carburetor/inlet manifold setup. Weight was probably around 1.500 kg, with the large engines being capable of acceleration from 0-100 km/h of around 10s (the 3.8l has been reported as doing it in 8.5s) and top speeds of around 200 km/h. This may sound disappointing for a car of this power to weight ratio, but is probably due to a lack of traction (live rear axle, 1960s tires) and poor aerodynamics. A well tuned car on modern rubber should be able to go below 10s for the sprint to 100.
Pros
Gorgeous styling, one of my favorite cars in this regard (we had a Daimler 250 as wedding car). 3.4l and 3.8l are very powerful for the period. Racing pedigree.
Cons
Live rear axle. The most desirable cars (manual transmission 3.8l) are expensive.
My pick
3.8l manual transmission/overdrive of course, in Gunmetal Grey.
If you're on a budget, there are three options: 2.4l, Daimler 250 V8, or (if you can live with the styling) S-Type.