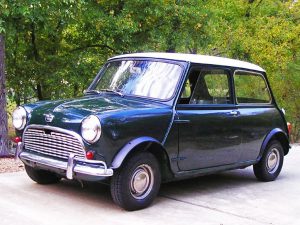 I almost let the 60th anniversary of the Mini pass without writing an article about it. Crisis averted!
History
The Mini was presented in 1959 as Austin Seven and Morris Mini Minor. It was designed by Alex Issigonis as compact, affordable car, something that could compete with other small cars such as the Fiat 500. What set it apart from the competitors was the innovative design – transversely placed front engine, front-wheel drive, and a very compact suspension with rubber cones instead of spring. The initial engine offered was a 850cc four-cylinder, larger engines (998cc, 1,071cc, 1,275cc) were added later. In 1964, the suspension was replaced by the hydrolastic system, but the Mini reverted to the original system in 1971.
The Mark II Mini with minor changes was released in 1967. Further changes came with the introduction of the Mk III Mini in 1969. Other marks were the Mk IV (1976), Mk V (1984), Mk VI (1990), and Mk VII (1996).
The Mini was sold under many brands and in many variants. The most desirable are the 1960s Cooper models, which were very successful in motorsports, both in rallying and touring car racing. Production stopped in 1971. The Cooper returned in 1991 and stayed until the end of Mini production in 2000, now with a fuel-injected engine. The Mini remains a popular choice for racing, and you can even get sixteen-valve cylinder heads, making in excess of 150hp out of a 1.3l engine possible.
Performance
The Mini is not powerful, hence its racing success came from light weight and excellent handling. The 1990s Coopers weigh less than 700kg with engine power around 65hp, a 0-100kph time of around 12s, and a top speed of 150kph.
Pros
One of the most iconic, recognizable and likeable cars in existence
Good handling
Very good parts situation, everything is available
Cons
Tiny and hence limited practical use
Somewhat awkward seating position/steering wheel angle
Rust issues
Coopers are expensive, including the 1990s models.
My pick
I prefer the older models with more traditional styling and interior. A real Cooper S is expensive, but there are plenty of aftermarket parts available to build a fast Mini from a base model.