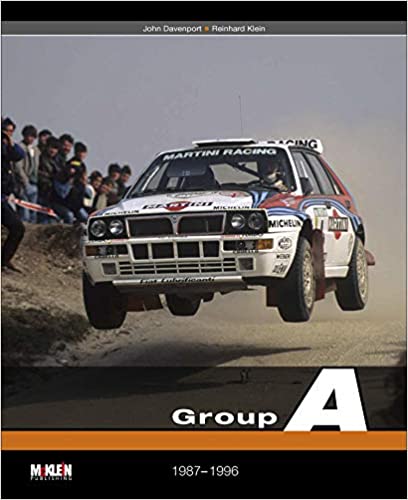 While my motorsports exploits (when I was young) were limited to autocross and regularity competitions on the Hockenheimring and Nürburgring, and my current Sim Racing hobby is centred on circuit racing, too, my first and true love when it comes to motorsports is rally. My formative years in this regard were the late '80s and early '90s. My parents drove Toyota, my R/C car was a VW Golf GTI 16v in VW rally colors. And while many consider Group B the pinnacle of rally, I think that Group A was the best.
Renowned rally photographer Reinhard Klein has published a book about the Group A years, 1987-1996. The main part of the book chronicles these years, describing the events at each rally, of course illustrated with many photographs. Group A had previously existed as lower-tier class and was already used as top class in touring car racing, but when Group B was abolished after the deadly accidents of 1986, it was suddenly promoted to being the top class in rally, too. Lancia was the only manufacturer that was prepared with a two-litre turbocharged 4WD car. VW had won the 1986 group A world championship, but the FWD Golf with its naturally aspirated engine was no match for the Delta. It took until the rise of Toyota and Carlos Sainz winning the championship in 1990 that Lancia was challenged, but even then, Lancia won six successive manufacturers' championships.
The golden year was maybe 1991, with Lancia, Toyota, Ford, Nissan, Subaru, Mazda, and Mitsubishi making an effort – just compare this to the current WRC with just three manufacturers. In later years, the lighter FWD kit cars (with more relaxed homologation rules) mixed things up a bit. All of this is described in plenty of detail in the book, and it took me back to reading about these events in Rallye Racing magazine close to 30 years ago. This main part of the book is followed by a brief description of each manufacturer that was involved in the Group A era, from Audi to Volkswagen. Another chapter describes the darker side of group A, the illegal attempts (not all proven) at gaining an unfair advantage, the most infamous being the 1995 Toyota turbo restrictor scandal. The final chapter provides statistics of all rallys.
After 1996, group A was replaced by the WRC cars. While similar in basic design (two-litre turbocharged engines, four-wheel drive), the homologation rules were relaxed. This was a plus for manufacturers, but meant that the consumer could no longer buy a street car built for homologation purposes, with the exception of offerings by Mitsubishi and Subaru.
To sum it up, if you have an interest in rally in general and the group A years in particular, this book is highly recommended. Klein has published similar books about group 2, group 4, and group B, each of them at 256 pages. On a side note, my English copy has sixteen pages in German, clearly a binding error.