Ever since my return to radio-controlled cars with the Slash, I knew that I wanted to have a crawler at some point. The issue here was that most of my RC driving takes place on vacation, with luggage space always at a premium, so a 1/10 scale crawler didn't seem ideal, plus the €500+ price tag. They very popular Axial SCX24 mini-Crawler, on the other hand, always appeared to me to be geared more towards indoor use. Hence I was very happy when I saw that Traxxas had released a 1/18 Crawler – sufficiently small to carry around easily and with a decent price, yet a bit larger than the SCX24.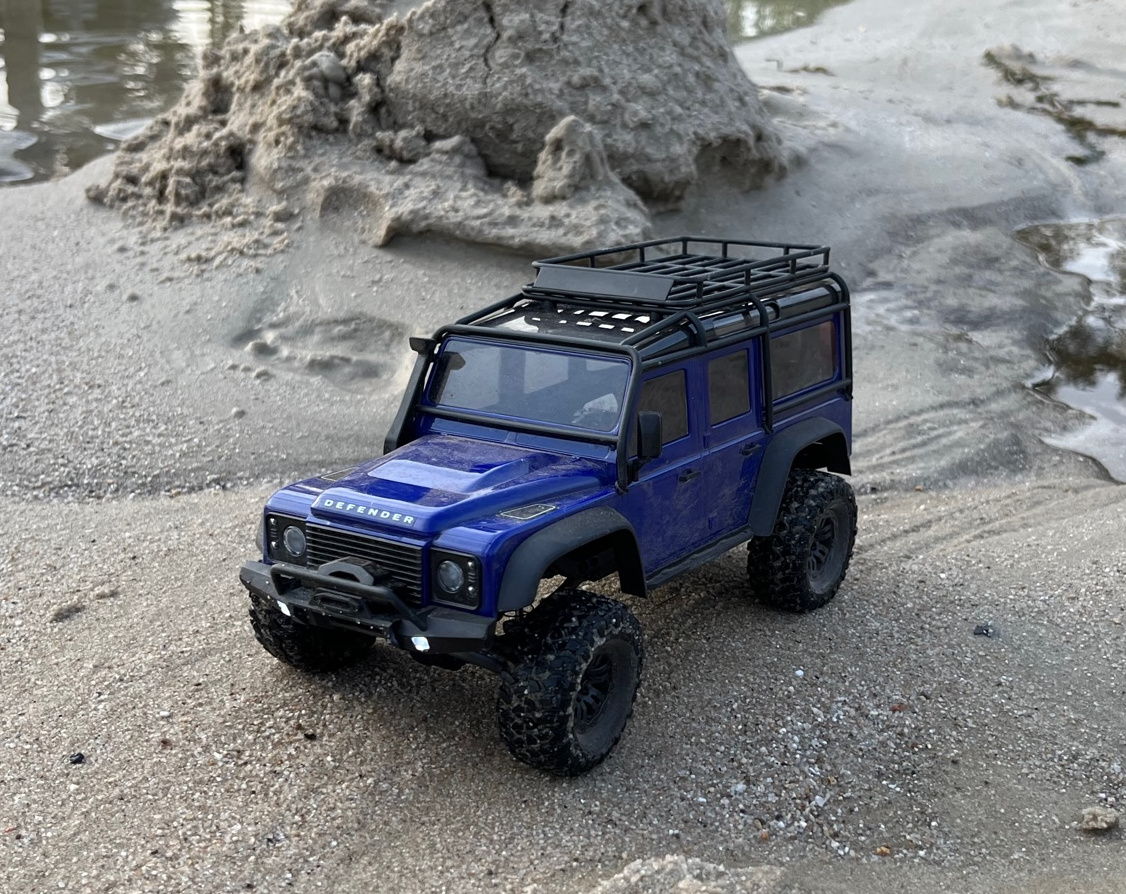 I got the blue Defender for my birthday (it is also available with a Ford Bronco body). I really like the scale looks, which are helped by a new body mounting system consisting of two clips on the bottom. These are both easier to use and much better for scale looks than the traditional split pin method on my Slash. The car comes with everything that you need save four AA batteries for the transmitter: car with all electronics installed, transmitter, 2S 750mAh LiPo battery, and USB charger. The latter is a much better solution than the 12V NiMH charger that came with the Slash.
The Defender has two lights in the bumper. A full lighting kit with several modes is available as accessory. These are far from the only accessories out there – Traxxas have an extensive range, including different gearings and a trailer. The TRX-4M has also been picked up by several third-party companies which already sell a bewildering array of parts and upgrades.
Being a Crawler, the TRX-4M does not need a big motor. It does have a small 180-sized electric motor, and with the stock gearing, the top speed is a brisk walking pace – I'd guess about 6kph. So if you're into speed this is not the right car for you, but it is perfect for going on walks with the car. A benefit of the small motor is the runtime – about one hour appears to be possible on a full charge.
In stock form, I wouldn't consider the TRX-4m a hardcore rock crawler. Tire size, ground clearance, suspension travel, and scale body limit it here. The Defender is also hampered by a relatively high center of gravity, it rolls quite easily. There are solutions out there – brass parts, low center-of-gravity chassis, big tires. You can easily spend a couple of hundred bucks on upgrades and essentially build a new car, but I think going down this route is somewhat missing the point of a small, affordable crawler. You will still be limited by its overall size and spend an amount of money that could also buy you a more capable 1/10 scale crawler.
To me, the TRX-4M shines as trail truck. It's got the perfect size and speed to take along on hikes, and you can have lots of fun on gravel tracks, slopes, and in shallow water pools. I want to make the most of the scale looks by building a Camel Trophy body.
So if you are into RC crawlers (which I think is the most enjoyable RC car category), you can't go wrong with the TRX-4M. Even if you decide to go 1/10 at some point, it's low speed, small size, and ruggedness makes it perfectly suited for the kids.