Ambush Valley and Cold War Gone Hot are the latest additions to the Ambush Alley Games/Osprey line of Force on Force wargaming rules. My wife bought both for me at Crisis 2011 in Antwerp.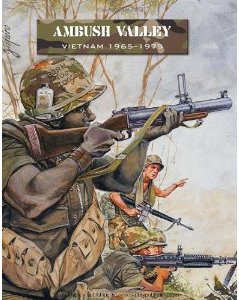 Ambush Valley is 180 pages in full color. It contains theater-specific rules and six scenarios, but most of the book is filled with the description of the forces that fought in the American period in Indochina – not only American and Vietnamese forces, but also Special Forces and the forces of Cambodia and Laos. This description is in great detail, offering enough background to be able to build a force for any of the mentioned factions – which is also the main point of criticism. All these force descriptions take up much space, not leaving much for scenarios. Other things that can be criticized is that the introduction to American and North Vietnamese/VC forces is a repetition of text earlier in the book, and that the book could have used another proof reader.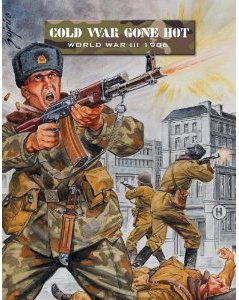 Cold War Gone Hot is a completely different animal. Also in beautiful full color, though only 120 pages, which seems a little unfair considering it sells for the same price as Ambush Valley (actually, Ambush Valley is too cheap for its page count). Most of the book is filled with 22 scenarios in three categories: Cold War Fears (a strong USSR), Cold War Realities (with a much stronger NATO/weaker Warsaw pact than was publicly perceived at the time) and Cold War Fantasies (Hollywood-style scenarios). The scenarios are varied and interesting. Cold War Gone Hot also covers a couple of theater-specific rules (which shows that the main rulebook contains mostly everything you'll need for gaming modern conflicts) and a short section on the forces involved. This is much shorter than in Ambush Valley, written more from a wargamer's than from a historian's perspective. Not an issue in my opinion, since plenty of detailed information is available elsewhere, but some people could find this section lacking.
What I miss in both books is general information that could help with designing your own scenarios: What were the tactics of the forces involved, how did they fight? What kind of operations were fought (Vietnam) or would likely have been fought (Cold War), what were the battle plans? This information could help with making the forces less generic (as it is now, it doesn't matter much whether you're playing US, West German or British) and coming up with ideas for scenarios. For Vietnam, the public misconception is that it was a war fought by small units in the jungle, when in fact it offered everything from airborne operations to large tank battles.
Conclusion: Two beautiful books that are a must-own for Force on Force Vietnam and Cold War wargamers, but not the only books you'll ever need about these conflicts. Please note that new Vietnam scenarios, including those from the first edition of Ambush Valley, will be made available as free PDF downloads.