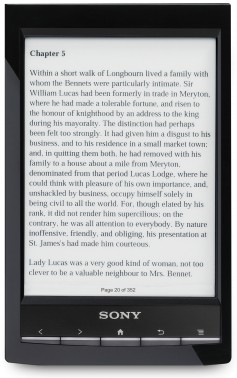 I got a Sony Reader, the current PRS-T1 model, for my birthday. Reviews have shown that it's the e-reader with the best PDF support, very important for me. It also has Wi-Fi and a web browser. While e-ink displays are quite slow, the web browser works just fine for reading Wikipedia. Better yet, you can directly open Wikipedia by clicking on words while reading. Compared to tablets, the Sony Reader is much smaller, lighter, with better readability especially in sunlight and great battery life.
Don't waste money on the charger Sony sells – any power supply with USB output will work just fine, and you probably have one of those already.
Calibre
I use Calibre as software for managing my library and converting to the formats supported by the Sony Reader. By default, Calibre sorts books by author, but you can also define tags. However, I prefer bookshelf-like sorting by genre. I followed these instructions to set up Calibre. Adding genres and sub genres couldn't be easier – simply type them in the Genre field when updating custom metadata – History.Vietnam, History.WW II, etc.
I also set up Calibre to automatically create collections on the Sony Reader based on the genre, as described here. I use "only on send" and only "#genre" as parameter for creating collections. Another really nice feature of Calibre is the possibility to download news from websites and convert it into an e-book for offline reading.