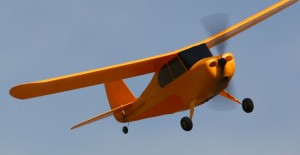 [lang_nl]Toen in in de jaren 90 voor het interesse had in modelvliegen betekende dit grote vliegtuigen van balsahout, brandstofmotoren en dure elektronica.  Daardoor was het niet makkelijk of goedkoop om met deze hobby te beginnen en heb ik het uiteindelijk ook niet gedaan. Sindsdien zijn een aantal dingen veranderd:
LiPo (Lithium Polymer) accu's hebben een veel betere vermogen-gewicht verhouding dan NiCd of NiMh accu's, waardoor vliegtuigen en helikopters met elektromotoren niet alleen mogelijk zijn geworden, maar een écht alternatief voor vliegtuigen met brandstofmotoren zijn.
Borstelloze (brushless) motoren hebben meer vermogen, zijn efficiënter en gaan veel langer mee dan ouderwetse motoren met borstels.
Door schuimconstructie zijn vliegtuigen licht, goedkoop te produceren en veel steviger dan de traditionele balsavliegtuigen.
Miniaturisatie van elektronica maakt het mogelijk zeer kleine ontvangers en servo's te bouwen. De lichtste vliegtuigen wegen minder dan 20 gram.
Digitale zenders en ontvangers die gebruik maken van het 2.4 GHz band hebben de problemen met een beperkt aantal kanalen opgelost, zorgen voor korte antennes, en hebben programmeerbare computerzenders betaalbaar gemaakt.
Gecombineerd met goedkope productie in China is modelvliegen voor iedereen veel toegankelijker geworden, mijzelf inbegrepen.[/lang_nl]
[lang_en]When I first became interested in RC flying in the 1990s, it meant large balsa planes, gas-powered engines and expensive electronics. Because of this, getting started wasn't easy or affordable, and as a result I never did. Since then, a couple of things have changed:
LiPo (Lithium Polymer) batteries have a much higher capacity-to-weight ratio than NiCd or NiMh batteries, making electric-powered airplanes and helicopters not only a possibility, but a real alternative to gas-powered aircraft.
Brushless electric motors offer more power, better efficiency and longer life expectancy than old-fashioned brushed motors.
Foam construction yields airplanes that are lightweight, cheap to produce, and much more durable than traditional balsa construction.
Miniaturization of electronics makes it possible to build tiny receivers and servos, with the lightest planes weighing less than 20 grams.
The introduction of digital transmitters and receivers using the 2.4 GHz band has eliminated the problem of limited frequency channels, shortened antennas, and made programmable computer transmitters affordable.
Combined with cheap manufacturing in China, RC flying has become much more accessible for everyone, including myself.[/lang_en]
[lang_de]Tut mir leid, diesen Artikel gibt es nur auf Niederländisch und Englisch[/lang_de]