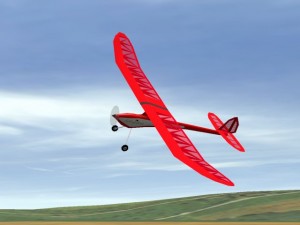 [lang_nl]Voordat je je eerste modelvliegtuig koopt en vliegt kan ik je zeer aanbevelen eerst met een simulatorprogramma te oefenen. Een simulator zal je de basisdingen leren en je er aan laten wennen dat links en rechts omgedraaid zijn als het toestel naar je toe vliegt. Het inschatten van afstanden en waar het toestel ten opzichte van de startbaan is, is in de simulator vrij lastig, waardoor het niet het perfecte middel voor het oefenen van landingen is.
Er zijn een aantal commerciële simulatoren. Bij sommige wordt een controller die op een echte zender lijkt meegeleverd, bij de meeste kan een echte zender aangesloten worden. Dit betekent echter een investering die in de buurt komt van een klein vliegtuig. Gelukkig zijn er alternatieven – ik heb deze twee gratis simulatoren gevonden:
FMS is een ouder programma, dus grafisch is het niet indrukwekkend. Het heeft ook problemen met nieuwere Windows versies – in het forum kun je de oplossing vinden. Het komt echter met een aantal leuke vliegtuigmodellen, waaronder twee zeer langzaam vliegende modellen die ideaal zijn om mee te beginnen.
RC Desk Pilot is nieuwer en ziet er beter uit, maar komt met minder modellen. Er ontbreekt een echt beginnersmodel, maar er zit een leuk 3D model voor gevorderde vlucht in.
Ik vlieg met een goedkope Logitech gamepad die ik oorspronkelijk voor de Microsoft Flight Simulator heb gekocht. Het enige nadeel is dat het gas altijd naar 50% springt als je de stick loslaat.
Een ding om aan te denken zijn stick modes. Bij mode 1 zitten zijroer en gas rechts, hoogteroer en rolroer links. Bij mode 2 is het precies andersom. In principe maakt het niet uit welke mode je gebruikt, maar het is handig om dezelfde mode te gebruiken als mensen (bijv. van een modelvliegvereniging) in de buurt zodat deze je kunnen helpen en bijv. het vliegtuig van je kunnen overnemen.[/lang_nl]
[lang_de]Tut mir leid, diesen Artikel gibt es nur auf Niederländisch und Englisch.[/lang_de]
[lang_en]Before buying and flying your first RC plane, I strongly recommend practicing with a computer simulator. A simulator will teach you the basic flight controls and getting used to the left/right inversion when the plane is flying towards you. Judging distances and where the plane is with regard to the runway is quite difficult in a simulator, so it's not the perfect tool for practicing landings.
There are several commercial RC flight simulators out there. Some come with a controller that looks like a real transmitter, many can be coupled to an actual transmitter. However, this means an initial investment similar to the cost of a complete plane. Luckily, there are alternatives. If found two free RC flight simulators:
FMS is an older program, so don't expect too much in the way of graphics. It also has issues with more recent Windows versions – check out the forum for a solution. It comes however with a couple of nice planes, including two slow-flying planes that are great for getting used to the controls.
RC Desk Pilot is newer, looks better, but comes with a smaller number of planes. It lacks a really basic model, but comes with a nice 3D model for more advanced flying.
I fly with a cheap Logitech gamepad that I originally bought for the Microsoft Flight Simulator. The only disadvantage is that the throttle control defaults to 50%, not 0%.
One thing to keep in mind is stick modes. Mode 1 has ailerons en elevator on the left stick, throttle and rudder on the right, mode 2 is the other way round. Generally, which mode you chose doesn't matter, but it may be smart to use the same mode as other people (such as an RC flying club) in your area so the can help you.[/lang_en]