This is a repost from xwingminiaturesgame.com.
This is part 3 in a multi-part series about software tools for FFG's X-Wing miniatures game. Part 1 and 2 can be found here and here.
VASSAL
URL: http://www.vassalengine.org/
VASSAL was originally developed as tool for playing boardwargames (the hex-and-counter kind) via internet of even e-mail. The advantage being that people can play without sitting at the table, without cluttering a table with the game for days/weeks/months (not uncommon for boardwargames), and without the hassle of physically stacking and moving loads of small cardboard counters.
VASSAL was thus a good engine to build a module for X-Wing upon, and this has happened! It can be downloaded here:
http://www.vassalengine.org/wiki/Module:Star_Wars:_X-Wing_Miniatures_Game
Mu0n, the module's developer, has an excellent tutorial on how to get started and play (pictures don't show on Firefox for me, use Google Chrome or Internet Explorer):
http://s93768914.onlinehome.us/xwing/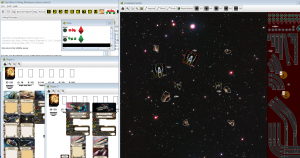 Operation is quickest using key shortcuts. Overviews can be found in the on-line help, you can download the two most important ones by clicking the images below.
Regarding functionality, it's all there. You can play via internet in real-time. You can also watch other games. Games can be stored in a logfile and reviewed later. New stuff is even added soon after revealed by FFG, usually long before it hits the store, so you can get practice and test new squads.
VASSAL has become very popular, and Team Covenant regularly hosts larger tournaments. At the time of writing, they're running the Team Covenant Aces, a tournament with several of the world's best players – something that would be impossible to do without VASSAL.
The text has been removed from all cards, to motivate people to still buy the miniatures (and playing at a table is still more fun, in my opinion). Gladly, this has so far been sufficient to keep FFG from taking legal steps against the module, something that has happened in the past with Games Workshop. Respect for that, but most deserving of respect is clearly Mu0n – I can only guess at the amount of work required to create (and update) this module.
I hope I've gotten you interested – give it a try, it's free!