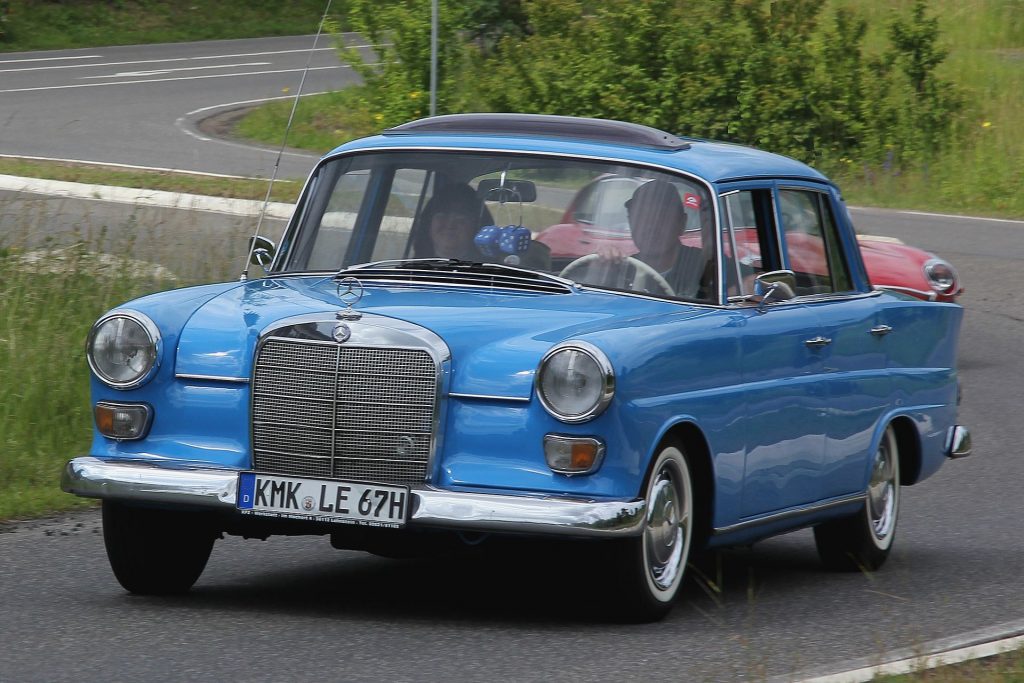 History
The W 110, part of Mercedes's second-generation post-war lineup, was introduced in 1961 as successor to the W 120/W 121 Ponton model. The W 110 is mostly identical technically and optically to the W 111, but with a shortened front (being designed for four-cylinder engines) and single round headlights instead of the vertical headlights that marked the larger model. The W 110 is known as Kleine Heckflosse (small tail fin) in Germany.
From 1961 to 1965, the W110 was sold as 190 (1.9l, 80 hp) and 190d (2.0l Diesel, 55 hp). The Diesel model was very popular among taxi drivers. In 1965, the model designation was changed to 200 (D), with the gasoline engine enlarged to 2l displacement and receiving many more improvements, resulting in 95 hp. 1965 also saw the introduction of the six-cylinder 230 model. The 2.3l engine started out with 105 hp, gaining 120 hp in 1966.
After a small update in 1967, production ended in early 1968. The successor W 114 (six-cylinder)/W 115 (four-cylinder) had already been in production for a couple of months by then.
Performance
This is no sports car. The closely related W 112 was used as race and rallye car, but the W 110 was the reliable workhorse for the taxi driver and small business owner who could afford the step up from a VW Beetle. The 120 hp 230 could do 0-100 in 13 seconds with a top speed of 175 kph.
Pros
Lovely early 1960s Mercedes styling and reliable technology make this a very likeable car. Relatively affordable.
Cons
Lack of performance. Rust in hidden places is difficult to find and even more difficult to repair.
My pick
The 230 of course. Even though I'm a two-door guy, I prefer it above the W 111 coupe for its pretty styling.