History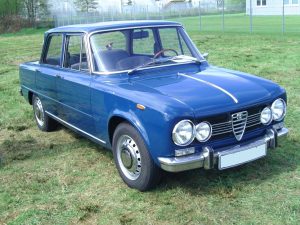 The Giulia (type 105) was introduced in 1962 as successor to the Giulietta. The initial engine offering was a 1.6l, with a 1.3l added in 1964. Technically, the four-door Giulia was ahead of its competitors. It featured twin-cam engines, disc brakes on all four wheels, a five-speed manual transmission (on the 1.6l), and a Cw coefficient of 0.34. The two engines were sold with various power outputs and related names (TI, Super), with power ranging from 77 hp to 101 hp.
In 1974, the car was revised, now being called Giulia Nuova. The changes were mostly cosmetic. Production ended in 1977.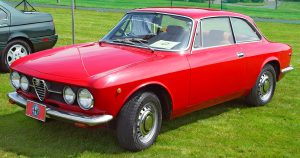 The Giulia served as base for the Giulia GT coupé models. Many different names were used for different models (Sprint GT, Veloce, Junior) – they are often simply called Bertone in honour of the designer. Besides the 1.3l and 1.6l engine, the Bertone was also available with a 1.8l and 2.0l version of the twin-cam engine. Early models have a distinctive edge on the front of the hood. Most famous are the GTA racing cars, which featured aluminium body panels, and were the dominant touring car at the time.
Performance
Depends on the engine, of course, as power output ranges from 77 hp to 130 hp. With a weight of around 1,000kg, this led to respectable performance. Even the 1.3l models were capable of reaching around 160 kph.
Pros
Technically advanced car
Large production numbers, hence in good supply including parts
Handles well
Bertone (GT) is a good-looking car
Cons
Rust
The rather square sedan isn't as beautiful as one would expect from an Italian car
Bertones are priced considerably higher than the sedans
My pick
I really like the Bertone (it's one of the few Italian cars I care about), but if money is an issue, the Giulia Sedan is a good alternative.