I have made slow but steady progress on my Bundeswehr army since my last summary post. This is the current order of battle: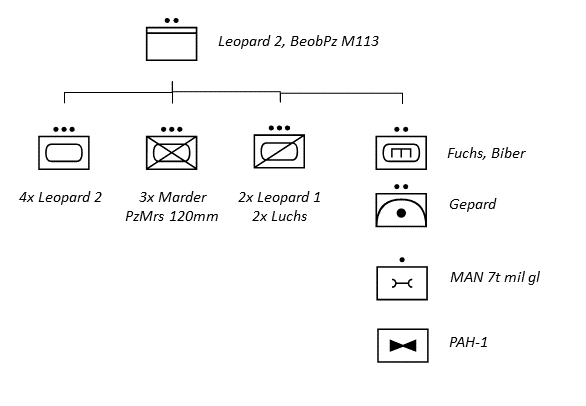 I consider the three combat platoons complete at this point. There are a couple of possible additions to the support units that I will pursue at low priority:
VW Ilits (S&S Models) mostly as scenery and scenario piece.
MAN 5t and 10t trucks (Revell, the latter is currently out of production) as fuel and munitions trucks. The former is already on my workbench.
Bergepanzer 2 (The Hobby Den conversion kit for Leopard 1) recovery tank.
Ambulance, an M113 (available from many makers) would probably be the best choice. I have decals left over from my Fuchs kit. I'll probably try the S-Model kit and use the second M113 for building the FüFu (Führungs- und Funkpanzer = Command & Communications tank).
For scenarios, other soft-skins might come in handy. S&S make the 1.5t and 2t Unimogs. They now have a six-wheel Mercedes truck that, as far as I know, was never used by the Bundeswehr, but it hopefully means that the very common DB 1017 5t truck is a step closer.
I recently found out about PJ Production, who make the VW T3 Doka (dual cab pickup). Probably the most important vehicle in a Bundeswehr company, since the company sergeant used it to bring food to the soldiers in the field.
Revell announced the M109G howitzer, which is due in September 2017. I might get one as scenario piece.
I have found two interesting websites about tanks with lots of background information: